hello sweet friends!
want to see how i made the sweet little clay eggs that i showed you in yesterday's post?
truly they are easy, peasy, lemon squeezy!
and just in time for easter. :)
ok...let's get started:
step 1:
time to get your hands working!
using your hands, roll modeling clay into desired mini egg shape of approx. 1' long. as you roll the clay in your hands, it starts to warm and becomes easier to manipulate.
this is the brand i used, in a pearlescent ivory color called, frost. any brand will work, just make sure it's oven-bake clay.
the smaller packages are pre-divided into 4 bricks. i found that each brick could be cut in half and was the perfect size for the tiny eggs. so each package will yield 8 eggs.
step 2:
let's stamp!
ok, now that we have our little eggs all rolled into shape, let's stamp them with some lovely little words. i've had this handy little rolling alphabet stamp on hand for years and thought it would be perfect for this project. they are available for sale in this sweet etsy shop that i love. any letter/word stamps that make deeper impressions would work just as well.
simply roll the letters until they spell the words you like. small/short words work best as our eggs and truly teeny, tiny! i used the words, fly, joy, love and hope. holding a little egg in one hand, press the stamp (without ink) into the clay gently until and impression is made. if it doesn't turn out quite perfect, that's ok! you can simply re-roll the clay and start over, or rub out small imperfections with your fingers.
step 3:
time to define!
grab your toothpicks and your dark brown acrylic ink. this is the ink i prefer for small detail work like this: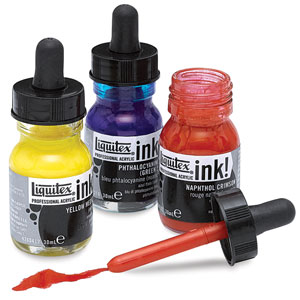 i use the transparent raw umber color. available here.
simply dip the tip of a toothpick into the ink and "write" over the stamped impression you made on the eggs. this is what you eggs will be looking like at this point:

see how the brown ink is a little messy? don't worry about that, as we'll be painting over them later.
step 4:
let's bake our little eggs!
following the directions on the back of the package of clay, bake your eggs at a very low temp (around 250 degrees) for about 20 min. pull out of oven and let cool.
step 5:
let's paint our lovely little eggs!
using the acrylic paint you gathered, simply take a paint brush and paint your eggs. depending on the color/opacity you desire you can apply anywhere from 1 to several coats of paint. make sure to let them dry between coats, or you will have a sticky mess.
 
don't worry about painting over the stamped word...we are going to go back over those letters, next.
step 6:
let's finish up the letters!
using your dark brown acrylic ink and toothpick, go over the stamped letters once more, if needed. i'm a bit of a messy painter (ha!) so i found i needed to go over all the letters again.
the egg on the right shows after painting with colored acrylic paint.
the egg on the left show after i touched up the letters.
step 7:
guess what? you're done! i told you they were easy, peasy, lemon, squeezy!
now all you have to do is decide if you can part with your teeny, tiny easter eggs. :)
there are all sorts of pretty ways to package them:

these lovely eggs, painted in brighter colors, were packaged in a little brown kraft box filled with floral moss.
and these softer colored eggs, in shades of cream, ivory and gold, were packaged in a nest made from vintage hat netting and book shreds.
ta dah!
approx. time to make these little beauties? 1-2 hours max, including drying time. love that!
hope you enjoyed my little, "how-to." i'd love to see photos of your teeny, tiny eggs if you make some. :)
xoxo,
cs